Thank you for making the 8th Annual Boo Run a success!!
Saturday, October 29th, 2016
San Gabriel Park, Georgetown • East Morrow St and Chamber Way • Georgetown, TX 78626
Sponsor the 2016 Boo Run and help exceptional people live exceptional lives! Funds raised benefit special needs children and young adults in Georgetown by providing summer camps and extracurricular activites. There are levels of sponsorship to suit your business or organization. Please contact exceptionalgeorgetown@gmail.com for more information.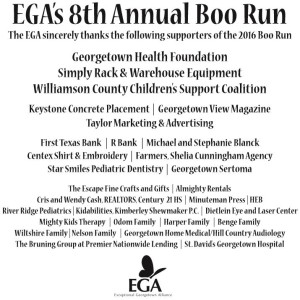 Other
Hula Cowgirl Shaved Ice
Hat Creek
All Things Kids